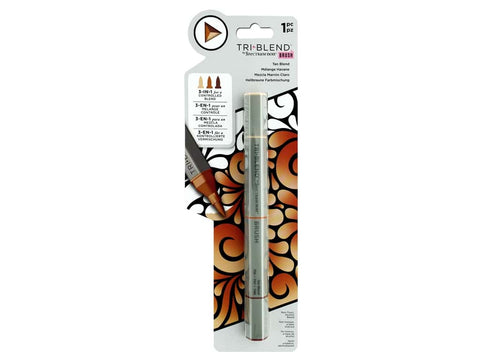 TriBlend by Spectrum Noir TAN BLEND Alcohol Marker Brush
TriBlend by Spectrum Noir TAN BLEND Alcohol Marker Brush
The vibrant brush produces three different shades giving the ability to create stunning effects such as 3D, smooth transitions, highlighting, shading, gradations and blending. All with one brush.
Each brush goes from light to a hint of a tint to rich tones; eliminating tonal gaps in your collection. One pen brush multiple tones.
The Spectrum Noir system allow you to do more with less! Replace the nibs and refill the color. The professional quality alcohol-based ink are permanent on most surfaces and compatible with all other alcohol-based inks. Non-toxic and low odor. Ideal for all paper crafts, manga, graphic and fine art.
Detailed instructions with useful hints, tips and techniques are included.
Colors include: TN1, TN7, and TN8 Coloring System.