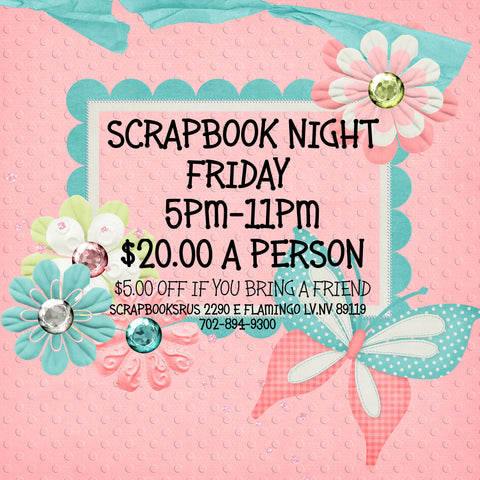 Friday Scrapbook Crop Night in Las Vegas
Scrapbook Crop Night in Las Vegas
Scrapbooksrus 2290 E Flamingo at Eastern
Join us for some scrappin fun
Friday from 5pm - 11pm
$20.00 per person
Each person will get a seat, 6 feet of space, access to our punches & tools, ideas and a fun place to scrapbook, card make or craft.
Cricut use is free with the purchase of a cricut mat from us.
Feel free to bring food.
The Walgreens near us for 1 hour photos is at 2995 E Flamingo at McLeod.
How to save $5.00
Spend $100.00 during crop and Get $5.00 off.
OR If its a themed event and you come dressed in theme Get $5.00 off
OR Bring a friend and Get $5.00 off