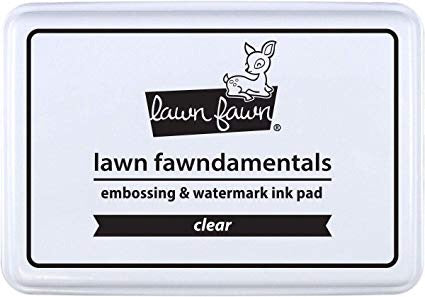 Lawn Fawndamentals CLEAR Ink Pad
Lawn Fawn CLEAR Dye Ink Pad.

An all-purpose craft ink! It blends the best of both pigment and dye inks into one ink pad with fine art colors that look like pigment, but dry like dye. This package contains one 3x2 inch raised pigment ink pad that is waterproof on paper surfaces. Comes in a variety of colors. Each sold separately. Acid free. Non-fading. Made in USA.


fast drying
permanent & waterproof on paper surfaces
acid-free, archival and fade resistant
raised felt pad inks any size stamp
crisp, non-bleeding impressions
Inks can be heat set on glass, fabric, wood, plastic, metal, and clay.
Lawn Fawn Ink Video https://youtu.be/q88v1Hw9G7c